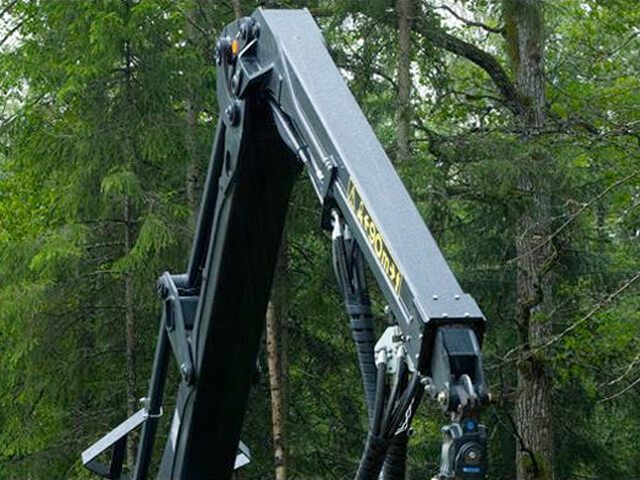 CH175
Harvester Crane
1,424 kg / 3,140 lb

CH175 - 9.0 Max. Load
9.3 m / 372 in

CH175 - 9.0 Outreach
2,570 kg / 5,654 lb

CH175 - 9.0 Weight
CH175 - 9.0, CH175 - 9.7 & CH175 - 11.5 specifications shown below.
Where to buy
Waratah offers purpose-built harvester booms and cranes. These forestry booms and cranes dramatically increase the working zone and ability to work close to the carrier, as well as provide optimum height and lift capacity.
Maximum productivity. Minimal downtime. You need equipment that can take on the big jobs – and that's durable enough to keep going day after day. Whatever it takes, as long as it takes, to get the job done.
That combination – as versatile as they are strong, as reliable as they are rugged – is what Waratah Attachments are all about. We know that spending hours on repairs is money out of your pocket. So we design, test, and build each attachment to work when facing the challenges of the woods. All to keep you productive and competitive – and ultimately boost your bottom line.
From harvesting and processing heads to booms and cranes to measuring systems, Waratah offers the most comprehensive range of products in the forestry industry. And by continually refining our products and processes, with a focus on increased mechanization and technology application, we've built a reputation in global forestry. We're built to work. Period.
Technical Data
CH175-9.0
CH175-9.7
CH175-11.5
optional
Outreach*
mm
9300
10000
11800
Lifting moment, gross
kNm
178
178
178
Max. load
kg
1424
1316
956
Stroke of boom extension
mm
1440
2170
3990
Slewing torque, gross
kNm
43,6
43,6
43,6
Slewing angle
°
195/236
195/236
195/236
Weight (without oil)
kg
2570
2580
2680
Pump Recommendation
Max. working pressure
MPa
24
24
24
Oil flow
l/min
120
120
120
Power input
kW
50
50
50
*Outreach is with the Waratah harvester head. Actual length of the crane is 300 mm shorter.