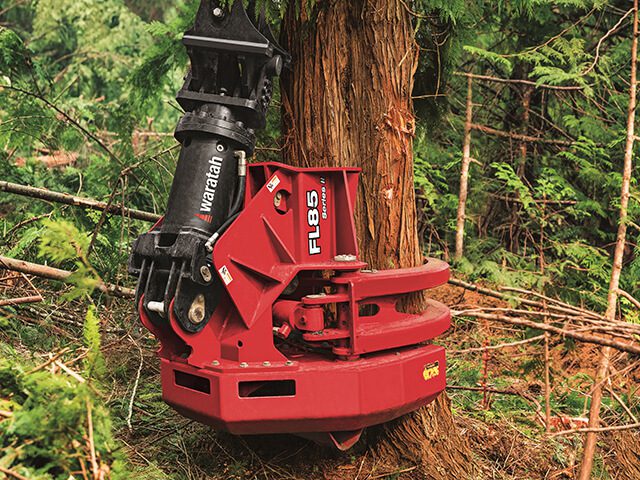 FL85 Series II
Felling Head
1747kg / 3,851 lb

Weight (Without Rotator & Link)
25 MPa / 3,600 psi

Hydraulic Requirements
1100 mm / 43.3 in

Max Grapple Opening
925 mm / 36 in

Maximum Sawing Capacity
25 metric ton

Carrier Size
Where to buy
The Waratah FL85 Series II felling head gives you maximum versatility. It's a felling head, grapple, and saw — all in one. But this is no jack-of-all-trades, master-of-none. This well-engineered, highly productive attachment is made for major cutting and harvesting.
The efficient SuperCut 300 saw unit provides fast cutting cycles and a maximum felling diameter of 925 mm (36.0 in.). The SuperCut saw unit's automatic chain lubrication and tensioning improves cutting performance and reduces maintenance time.
There's a hydraulic snubber for controlled side-to-side motion, high grapple arm gripping force to hold the largest of trees, and a unique upper-boom link system for simple installation on log loaders, excavators, and feller bunchers.
What does all this mean in the woods? Harvesting standing and storm-damaged timber. Picking, sorting, and piling with one attachment. Fewer cuts on large timber. And minimal use of manual felling.
Technical Data
Weight
1747 kg
3,851 lbs
Width
1822 mm
71.7 in
Rotation
360 continuous
Maximum grapple opening
1100 mm
43.3 in
Maximum cut diameter
925 mm
36.0 in
Length of saw bar
1130 mm
44.5 in
Chain type
Auto-tension 3/4 saw
Oil tank capacity
43 L
11.3 gal
Carrier Range
25 metric ton
Saw Hydraulic Requirements:
Maximum operating pressure
25 Mpa
3,600 psi
Maximum pump capacity
220 l/min
58 gpm