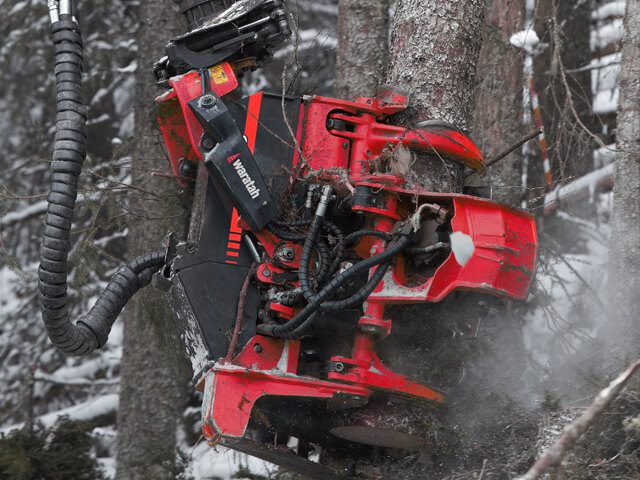 H415
Harvester Head
1,330 kg / 2,932 lb

Weight (Without Rotator & Link)
28 MPa / 4,061 psi

Hydraulic Requirements
750 mm / 29.5 in

Cutting Capacity
460 mm / 18.1 in

Delimbing Diameter Tip-to-Tip
Where to buy
The Waratah H415 Harvester Head combines large-time-cutting power with excellent delimbing quality. The H415 is hard to beat when it comes to productivity, uptime, and low daily operating costs.
The H415 gives unprecedented tree-processing performance, especially in large timber. New feed-roller-arm geometry ensures rollers grip solidly and reliably carry trunks in all diameter ranges.
The H415 offers a solution for all different kinds of clearfelling with its three options for variable stem types: standard (narrow stem), buttress (wide stem), and top saw (processing and hardwood).
Technical Data
Dimensions:
Width, head open
1720
Width, head closed
1200
Height without rotator and link
1510
Weight:
Without rotator and link
1330 kg
2,932 lb
Felling/Cutting:
SuperCut 100 saw unit, automatic chain tensioning
Standard
Maximum cut diameter [mm]
750
Length of saw bar [mm]
825/900
Chain type
.404
Chain speed [m/s]
40
Feeding:
4WD with with steel feed rollers
Gross feed force [kN]
400 / 630-cc:
27
500 / 780-cc:
30
1014 / 315-cc:
25–42
Maximum feed speed [m/s]
2.9–7.0
Maximum roller opening [mm]
680
Delimbing [mm]:
Delimbing knives
4 moving, 2 fixed
Delimbing diameter, tip to tip
460
Maximum opening, upper knives
680
Maximum opening, lower knives
730
Hydraulic System:
Maximum operating pressure [MPa]
28
Recommended pump capacity [l/min]
260–340
Control and Measuring System:
For adaptation, contact your Waratah dealer.
Optional Configurations
| | |
| --- | --- |
| Color marking | Stump treatment |
| Multi-tree-handling (MTH) | Debarking feed rollers |
| Moipu feed rollers | Steel thumbnail feed rollers |
| Steel V-profile feed rollers | Steel ribbed feed rollers |
| Chain and saw-bar kits | Hydraulic hose kit |
| Top saw | |