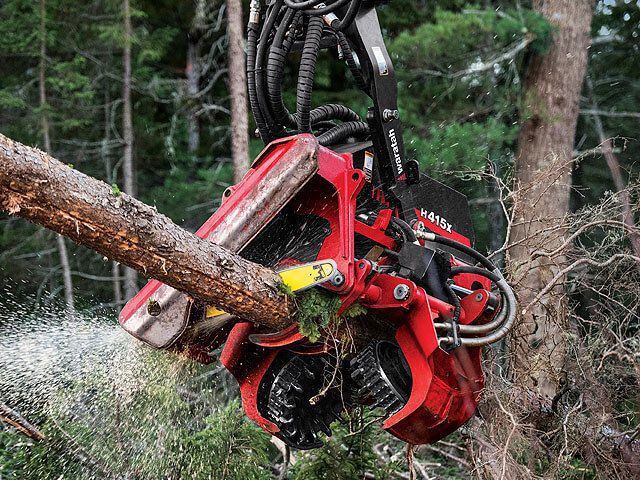 H415X
Harvester Head
1365 kg / 3,009 lb

Weight (Without Rotator & Link)
28 MPa / 4,061 psi

Hydraulic Requirements
710 mm / 28 in

Cutting Capacity
460 mm / 18.1 in

Delimbing Diameter Tip-to-Tip
Where to buy
The Waratah H415X harvesting head is purpose-built for tracked harvesters and features a rugged main saw box with heavier steel plating, extra component guarding, hose protection, and increased drive arm durability for demanding track machine applications. The H415X four roller feed arm geometry ensures rollers grip solidly in all diameters, improving responsiveness with unprecedented tree-processing performance - especially in large timber.
Additionally, the H415X offers options for many applications, with multi-tree handling, integrated top saw (for processing and hardwood), with feed wheel or knife variations for variable stem types.
Technical Data
Dimensions:
Width, head open
1720
Width, head closed
1200
Height without rotator and link
1510
Weight:
Without rotator and link
1365
(With top saw 1555)
Felling/Cutting:
SuperCut 100 saw unit, automatic chain tensioning
Standard
Maximum cut diameter [mm]
710
Length of saw bar [mm]
825/900
Chain type
.404
Chain speed [m/s]
40
Feeding:
4WD with with steel feed rollers
Gross feed force [kN]
400 / 630-cc:
27
500 / 780-cc:
30
1014 / 315-cc:
25–42
Maximum feed speed [m/s]
2.9–7.0
Maximum roller opening [mm]
680
Delimbing [mm]:
Delimbing knives
4 moving, 2 fixed
Delimbing diameter, tip to tip
460
Maximum opening, upper knives
680
Maximum opening, lower knives
730
Hydraulic System:
Maximum operating pressure [MPa]
28
Recommended pump capacity [l/min]
260–340
Control and Measuring System:
For adaptation, contact your Waratah dealer.
Optional Configurations
| | |
| --- | --- |
| Color marking | Stump treatment |
| Multi-tree-handling (MTH) | Debarking feed rollers |
| Moipu feed rollers | Steel thumbnail feed rollers |
| Steel V-profile feed rollers | Steel ribbed feed rollers |
| Chain and saw-bar kits | Hydraulic hose kit |
| Top saw | |