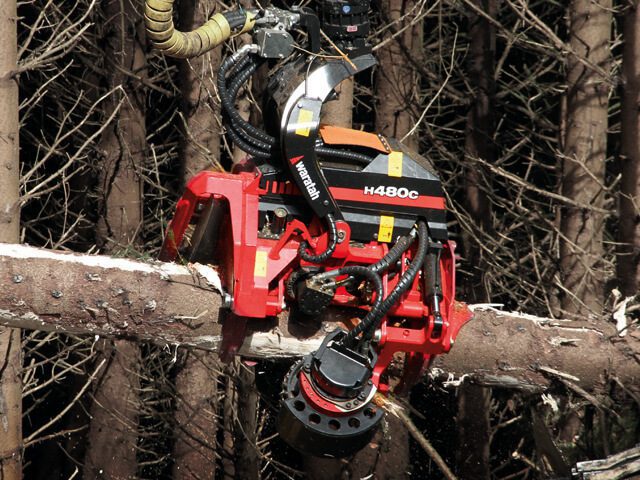 H480C
Harvester Head
Weight (Without Rotator & Link)

1,350 kg / 2,976 lb
Hydraulic Requirements

28 MPa / 4,061 psi
Cutting Capacity

650 mm / 25.6 in
710 mm / 28.0 in
Delimbing Diameter Tip-to-Tip

480 mm / 18.9 in
Where to buy
The Waratah H480C harvesting head combines large timber cutting-power with an excellent delimbing quality throughout its diameter range.
Optimized feed force & speed are a result of new feed motor options. 400/630 cc motors provide high performance in early to late thinnings. 500/800[780] cc motors are the preferred choice in late thinnings and regeneration fellings. The H480C gives an unprecedented excellent tree processing performance, especially in large timber. New feed roller arm geometry ensures that feed rollers have solid grip and reliably carry trunks in all diameter ranges. Operators also appreciate the continuous powerful four-wheel feed for efficient feeding with low friction.
New manufacturing processes have led to even more durable frame structures. New tilt frame rubber stoppers protect structures and prolong the frame lifetime. New feed roller arms feature more durable bearings, strengthened cylinders & pins, and well-protected hose routings. Four moving delimbing knives, one fixed top knife and one fixed bottom knife follow the contours of the stem. Knife geometry and long cutting edges of the H480C ensure an excellent delimbing quality for all stem diameters.
The proven EVO2 valve provides efficient hydraulic oil flow and head control, and leads to fuel efficiency of the base machine. The Super-Cut 100 saw unit has a maximum felling diameter of 710 mm, and can be factory equipped with either Parker or Bucher saw motor options. The saw units' automatic chain tensioning prolong saw bar & chain lifetime, and the integrated chain lubrication ensures economical oil consumption. Daily maintenance has been further simplified, e.g. improved service of the optional color marking system saves time and costs.
Technical Data
Dimensions:
Width arms open
1880 mm
6.2 ft
Width arms closed
1200 mm
4.0 ft
Height without rotator and link
1350 mm
4.4 ft
Weight:
Without rotator and link
1350 kg
2,976 lb
Felling/Cutting:
Maximum diameter saw cut
710 mm
28.0 in
Saw bar
825 mm
32.5 in
Bar type
10 mm
.404 in
Chain speed (m/s, ft/s)
40 m/s
131 ft/s
Feeding:
4WD with hydraulically driven steel feed rollers
Feed force gross
With 400/630 cc motors (4xDanfoss)
27 kN
6,070 lbf
With 500/800 cc motors (4xDanfoss)
30 kN
6,789 lbf
With 400/630 cc motors (2xDanfoss/2xPoclain)
27 kN
6,070 lbf
With 500/780 cc motors (2xDanfoss/2xPoclain)
30 kN
6,789 lbf
Speed
4.2–5.3 m/s
14–17 ft/s
Maximum feed roller opening
680 mm
26.8 in
Delimbing:
Delimbing knives
4 moving and 2 fixed
Delimbing diameter tip to tip
460 mm
18.1 in
Maximum opening upper knives
680 mm
26.8 in
Maximum opening lower knives
710 mm
28.9 in
Hydraulic Requirements:
Maximum operating pressure
28 MPa
4,061 psi
Recommended pump capacity
290-340 l/min
77-90 gpm
Control and Measuring System, Adaptation:
Timbermatic H09, 300
TimberRite, Motomit IT/PC, Dasa 4
Control and Measuring System, New Delivery:
TimberRite
Optional Configurations
Color marking system, 2 colors:
– Knife nozzles or Supermark
Top knife: fixed wide shape, fixed wave shape, hydraulically activated, butterfly-knives
Stump treatment system:
– Saw bar or Nozzles in saw box
Various types of length measuring wheels
Feed rollers: Moipu, MenSe, MTH, V-type MTH, steel thumbnail, steel V-profile, eucalyptus debarking
MTH equipment
Rotator and link
Saw motor: Parker, Bucher
Rotator valve
Chain and saw bar kits
Tool kits