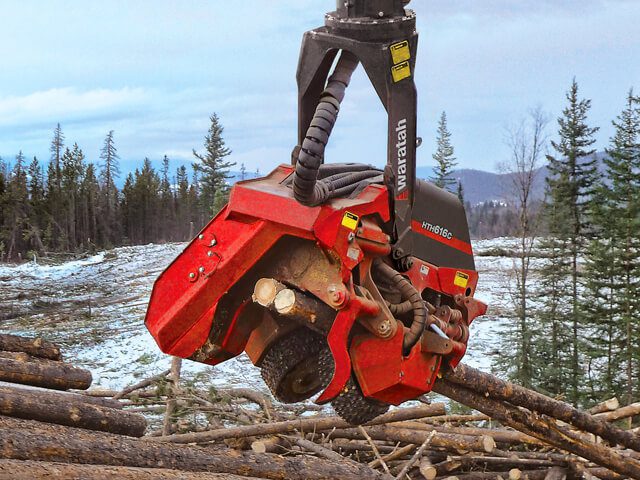 HTH616C
Harvester Head
1970 kg / 4,343 lb.

Net Weight
35 MPa / 5,075 psi

Max Hydraulic Pressure
510 mm / 20 in.

Max Delimb Opening
680 mm / 27 in.

Max Feed Roller Opening
550 mm / 22 in.

Max Sawing Capacity
18-24 metric ton

Carrier Size
Where to buy
Lightweight and versatile, the Waratah HTH616C is perfect for processing small wood out of a deck, working behind a buncher, or cutting and delimbing at the stump.
The HTH616C harvester head can easily be installed on carriers for thinning and final-felling wood at an optimal 40 cm (16 in.) in diameter. It gives you the same great features of the larger heads - synchronized drive, topping saw, and more.
We've also worked in a number of upgrades including two feed-motor options, a redesigned saw box, and bronze delimb feedlink bushings. Plus, we've improved the rotator. And that's just the beginning. This is a machine that takes flexibility, serviceability, durability, and control to a whole new level.
Technical Data
Dimensions:
Maximum feed-roller opening
680 mm
27 in.
Width (maximum)
160 cm
63 in.
Weight:
Excluding links and some options
1970 kg
4,343 lb.
Butt Saw:
Saw type
Supercut 100
Maximum cutting diameter
550 mm
22 in.
Bar
750 mm
29 in.
Saw limiting
Standard
TopSaw:
Saw type
.404 – 20cc
Maximum cutting diameter
320 mm
13 in.
Bar and chain type
420 mm
17 in.
Feed System:
Three feed rollers with full hydraulic synchro-drive
Various feed-wheel options available
Motor option 1
500 cc/315 cc
Feed speed — maximum flow
8.3 m/sec
27 ft./sec
Motor option 2
630 cc/400 cc
Feed speed — maximum flow
6.6 m/sec
22 ft./sec
Delimbing:
Top knives
1 fixed, 2 moving
Maximum delimb opening
700 mm
28 in.
Bottom knives
1 fixed
Maximum delimb opening
650 mm
26 in.
Control and Measuring System Options:
TimberRite H-16
Optional Configurations
Felling/Cutting:
Saw type
Waratah 3/4
Maximum cutting diameter
55 cm
22 in
Bar and chain type
71 cm
28 in
Color-Marking System:
Optional
Delimbing:
Maximum delimb opening
51 cm
20 in
Bottom knives
1 moving
Carrier Requirements
Carrier Size Range:
18 to 24 tonne
Hydraulic Requirements:
Maximum pressure
35 MPa
5,075 psi
Useable pressure
32 MPa
4,641 psi
Maximum flow
320–360 l/min
85–95 US gal/min
Optimum flow @ pressure
360 l/min @ 15 MPa
95 gpm @ 2,207 psi