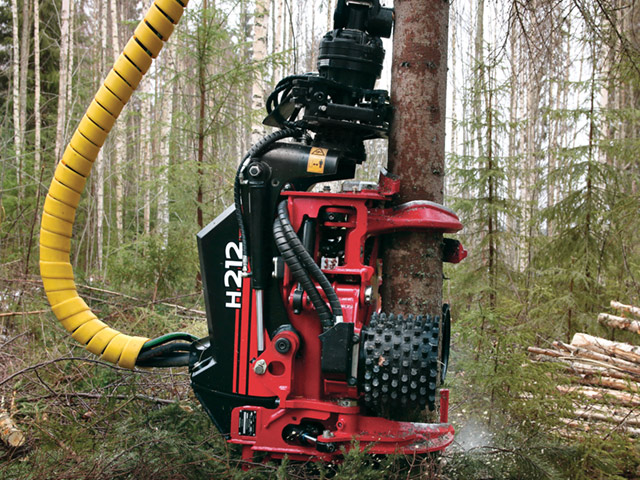 H212
Harvester Head
Weight (Without Rotator, Link or Multi-Tree Handling)

770 kg / 1,698 lb
Hydraulic Requirements

28 MPa / 4,061 psi
Cutting Capacity

520 mm / 20.5 in
Delimbing Diameter Tip-to-Tip

360 mm / 14.2 in
Where to buy
Built for performance and speed, the compact and agile H212 delivers big productivity for harvesting, processing and debarking applications. With its robust and nimble design, this all-around capable head is a little giant in the forest.
The H212 features the new and highly efficient SuperCut 100S saw unit with improved auto tensioning and easier servicing, which can fell and process trees up to 520 mm (20.5 in.) in diameter. The delimb arms, which are designed to provide premium delimbing, complement the feeding power and grip of the drive arms on large or crooked stems.
The narrow head design provides excellent visibility even when knives and rollers are open, which helps increase agility in small diameter dense stands. The saw box also provides good visibility for aiming felling cuts as well as pivot position for efficient cutting.
Additionally, the H212 utilizes the TimberRiteTM H-16 control system. This system provides unique versatility with configurable settings for improved head performance, productivity and measuring accuracy.
Technical Data
| | | | |
| --- | --- | --- | --- |
| Dimensions: | Height, std tilt frame, without rotator and link (mm/in.) | | 1360 / 53.5 |
| | Width, arms open (mm/in.) | | 1150 / 45.3 |
| | Width, arms closed (mm/in.) | | 1025 / 40.4 |
| Weight: | 770 / 1698 (Std) | | |
| | 830 / 1830 (Incl. MTH) | | |
| Delimbing: | Front knife | | Fixed |
| | Maximum opening upper knives (mm/in.) | | 500 / 19.7 |
| | Delimbing diameter tip to tip (mm/in.) | | 360 / 14.2 |
| | Rear knife (mm/in.) | | One |
| | Rear knife maximum opening | | 550 / 21.7 |
| Feeding: | Quantity drive rollers | | Two |
| | Maximum feed roller opening (mm/in.) | | 440 / 17.3 |
| | Maximum feed force 398 cc motors (kN/lbf) | | 20 / 4496 |
| | Maximum feed speed (m/s, ft/s) | | 5.4 / 17.7 |
| Cutting: | Maximum felling cut diameter (64cm bar) (mm/in.) | | 520 / 20.5 |
| | Maximum saw bar length (mm/in.) | | 64 / 25.2 |
| | Chain type (mm/in.) | | 10 /.404 |
| | MTH Capacity (measured at DBH) (mm/in.) | 2 stems @ 130 / 5.1 | 3 stems @ 100 / 3.9 |
Optional Configurations
| | |
| --- | --- |
| Adaptation to other control systems | Color marking |
| Stump treatment (through nozzle, saw bar, or both) | Processing upper delimb knives |
| Multi-tree handling | Saw lubrication (bar oil / greasing option) |
| HD tilt frame for tracked carriers | Snow protection |
| Measuring wheel options | Eucalyptus debarking configuration option |
| Feed Wheels: Eucalyptus debarking; Steel thumbnail; Steel ribbed | |