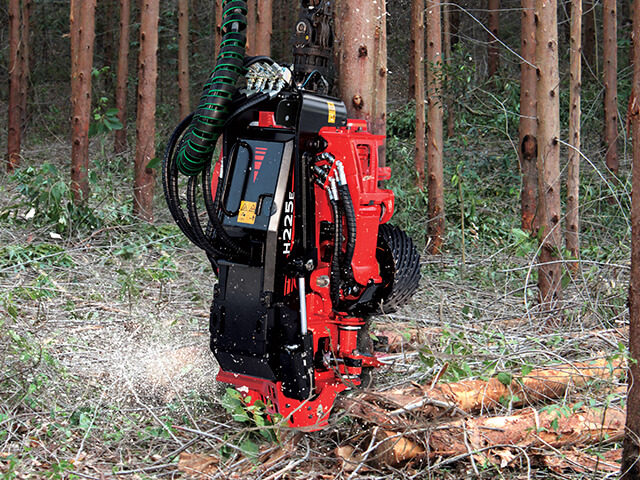 H225E
Harvester Head
Weight (Option dependent, without rotator & link)

1,690 kg / 3,726 lb
Max Hydraulic Requirements
(Option dependent)

28 Mpa / 4,061 psi
35 MPa / 5,076 psi
Cutting Capacity

550 mm / 21.7 in
Delimbing Diameter Tip-to-Tip

430 mm / 16.9 in
Where to buy
The H225E is a powerful, high-capacity harvester head purpose-built for single-pass eucalyptus debarking and designed for use on large wheeled harvesters and excavators.
The H225E is an excellent tool for effective eucalyptus harvesting and processing. Four moving delimbing knives, one fixed top and back knife, together with fixed debarking tools in the frame and patented variable stem rotating rollers, ensure excellent debarking from large to small diameters.
Its high-performance valve, heavy-duty measuring system, delimb arms, durable hose routings and ease of daily service add to the high reliability of the H225E.
Technical Data
| | | |
| --- | --- | --- |
| Dimensions | Width, head open (mm/in.) | 1650 / 65 |
| | Width, head closed (mm/in.) | 1200 / 47.2 |
| | Height without rotator and link (mm/in.) | 1900 / 74.8 |
| Weight | Option dependent, without rotator & link (kg/lb.) | 1690 / 3,726 |
| Delimbing | Delimbing knives | 4 moving, 1 fixed, 2 fixed debarking tools |
| | Delimbing diameter tip-to-tip (option dependent) (mm/in.) | 430 / 16.9 |
| | Maximum opening, upper knives (mm/in.) | 540 / 21.2 |
| | Maximum opening, lower knives (mm/in.) | 610 / 24.0 |
| Feeding | Quantity drive rollers | 2 |
| | Motor cc - option 1 | 627-cc |
| | - Gross feed force (kN) (steel feed wheels) | 21.2 (@ 280 bar, 260 lpm) |
| | - Feed speed (m/s, ft/s) | 5.5, 18 |
| | - Gross feed force (kN) (steel feed wheels) | 27 (@ 350 bar, 260 lpm) |
| | - Feed speed (m/s, ft/s) | 5.5, 18 |
| | Motor cc - option 2 | 702-cc |
| | - Gross feed force (kN) (steel feed wheels) | 24 (@ 280 bar, 280 lpm) |
| | - Feed speed (m/s, ft/s) | 5.5, 18 |
| | Motor cc - option 3 | 780-cc |
| | - Gross feed force (kN) (steel feed wheels) | 26 (@ 280 bar, 310 lpm) |
| | - Feed speed (m/s, ft/s) | 5.5, 18 |
| | Maximum roller opening (mm/in.) | 550 / 21.7 |
| | Minimum diameter (mm/in.) | 30 / 1.2 |
| Felling/Cutting | Standard Saw | SuperCut 100S with auto chain tensioning |
| | Maximum cut diameter (mm/in.) | 550 / 21.7 |
| | Length of saw bar (mm/in.) | 670 / 26 |
| | Chain type (mm/in.) | 10 / 0.404 |
| | Saw motor | 20 cc |
| | Oil tank capacity (L/gal.) | 10 / 2.6 |
| Hydraulic Requirements | Maximum operating pressure (Mpa/PSI) | 28 / 4061, 35 / 5076 |
| | Recommended pump capacity (l/min., gal/min.) | 260-340, 69-90 |
| Carrier Range | Wheeled (metric ton) | 18-22 |
| | Tracked (metric ton) | 20-25 |
| Control and Measuring System | TimberRite H-16 | |
Optional Configurations
Stump treatment (through saw bar)
Aggressive debarking feed rollers
Chain and saw-bar kits
In-motor measuring
HD Euca Swept Knives (cast)
HD Big Timber Knivces (fabricated)
Saw bar lubrication without tank
Rotator options
Straight hoses to boom
Hoses to bulkhead on tilt frame
Find-end sensor