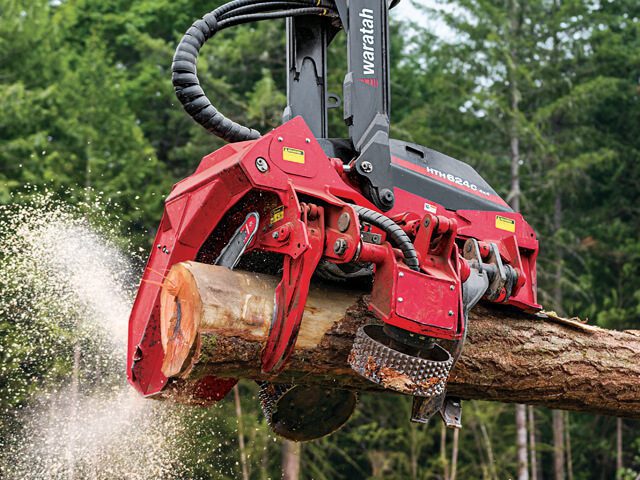 HTH624C 4X4
Harvester Head
3560 kg / 7,848 lb.

Net Weight
35 MPa / 5,076 psi

Max Hydraulic Pressure
710 mm / 28 in.

Max Delimb Opening
875 mm / 34 in.

Max Feed Roller Opening
815 mm / 32 in.

Max Sawing Capacity
27+ metric ton

Carrier Size
Where to buy
Born to perform. With its effortless four wheel drive, and high torque feed motors, the H624C 4X4 provides unyielding delimbing power, and responsive feed speeds.
It's productivity enhanced design couples an extra capacity top saw with 360 rotation, and lower delimb- emphasizing efficient and responsive log handling, precision placement, and control.
Include our accurate TimberRite measuring system, and you'll have a wealth of data and information at your command — which means you can run your business smarter and more efficiently than ever before.
Technical Data
Dimensions:
Maximum feed-roller opening
875 mm
34.4 in
Width (maximum)
200 cm
79 in
Weight:
Excluding links and some options
3560 kg
7,848 lb
Rotation:
360 continuous
Delimbing:
Delimbing knives
1 fixed,/1 floating, 2 moving*
1 fixed rear (*option for single lower delimb)
Maximum delimb opening
710 mm
28 in
Maximum opening lower knives
885 mm
35 in
Drive:
Quantity drive rollers
4
Motor cc - option 1 (drive, fixed)
837
500
Maximum feed speed
5.2 m/s
17 ft/s
Maximum roller opening
875 mm
34 in
Motor cc - option 2 (drive, fixed)
1048
630
Maximum feed speed
4.6 m/s
15.1 ft/s
Minimum feed arm diameter
65 mm
2.6 in
TopSaw:
Maximum cutting diameter
560 mm
22 in
Length of saw bar
740 mm
29 in
Chain type
3/4
Top saw motor displacement
20 cc
Butt Saw:
Standard Saw
Waratah AT 3/4
Maximum cut diameter
815 mm
32 in
Length of saw bar
1015 mm
40 in
Chain type
3/4 in
Saw motor
50 cc
Oil tank capacity
16 L
4.2 gal
Control and Measuring System Options:
TimberRite H-16
Optional Configurations
| | |
| --- | --- |
| Continuous 360-degree rotation | Color marking |
| Multi-tree processing | Fabricated processing upper delimb arms |
| Cast processing upper delimb arms | Steel thumbnail feed rollers |
| Alpine | Non-aggressive fixed roller |
Carrier Requirements
Carrier Size Range:
27+ metric tons
Hydraulic Requirements:
Maximum pressure
35 MPa
5,076 psi
Maximum pump capacity
320-360 L/min
85-95 gal/min