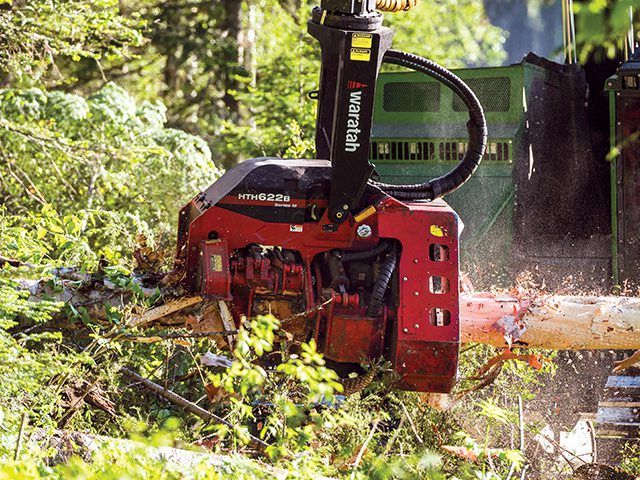 HTH622B Series-III
Harvester Head
Net Weight

2450 kg / 5,401 lb.
Max Hydraulic Requirements

35 MPa / 5,075 psi
Max Delimb Opening

650 mm / 26 in.
Max Feed Roller Opening

730 mm / 29 in.
Max Sawing Capacity

750 mm / 30 in.
Carrier Size

24-30 metric ton
Carrier Size

20-30 metric tons
Where to buy
You talked. We listened. And then we made our all-time leader, the 622B, better than ever. The result? You get reinforced durability and increased accessibility. It's ready for your toughest job, and it's simplified to make maintenance a breeze. That's the HTH622B Series-III.
Features include a new valve with better flow-through characteristics for reducing heat, while improving feed speed and sawing performance. A new measuring arm with 30 mm more travel and sensor protection provide increased accuracy in measuring crooked wood and improved uptime.
A new twin retainer front knife and strengthened upper delimb castings contribute to improved delimbing durability. The head also has a new tilt frame and optional integrated color marking system. A newly styled and stronger valve cover and hinges as well as reinforced drive arm covers keep key components protected. Additionally, new handles and a tool-less entry provide access to a simplified hose layout, and a larger saw oil filler makes for faster fills with less spills.
Technical Data
Dimensions
Width, head open (mm/in.)
1700 / 67
Weight
Excluding rotator, links and some options (kg/lb.)
2450 /5401
Rotation
360 continuous
Delimbing
Delimbing knives
1 fixed/floating, 2 moving, 1 fixed rear
 
Maximum delimb opening (mm/in.)
650 / 26
Drive
Quantity drive rollers
3
 
Motor cc - option 1 (drive, fixed)
702 /400
 
Maximum feed speed - option 1 (m/s, ft./s)
6.5 / 21.3
 
Maximum roller opening (mm/in.)
730 /29
 
Minimum feed arm diameter (mm/in.)
50 / 2
Top Saw
Maximum cut diameter (mm/in.)
400 / 16
 
Length of saw bar (mm/in.)
640 / 25
 
Saw type (in.)
0.404
 
Top saw motor displacement
10 cc
Carrier Size Range
24-30 metric ton
Butt/Felling Saw
Standard saw
SC100
Maximum cutting diameter (mm/in.)
750 / 30
Length of saw bar (mm/in.)
820 / 32
Chain type (in.)
.404
Saw motor
3/4" - 50 cc & .404 - 20 cc
Oil tank capacity (L/gal.)
12 / 3.2
Hydraulic System
Maximum operating pressure (MPa/psi)
35 / 5075
 
Maximum pump capacity (L/min., gal./min.)
320-350 / 85-95
Control and Measuring System
TimberRite H-16
Optional Configurations
Optional Butt Saw - Waratah AT 3/4"
Maximum cut diameter (mm/in.)
750 / 30
Length of saw bar (mm/in.)
820 / 32
No top saw
Continuous 360-degree rotation
Color marking
Stump spray - inquire
Cast processing upper delimb arms
Debarking feed rollers
Steel thumbnail feed rollers
Alpine
Non-aggressive fixed roller
Steel ribbed feed rollers