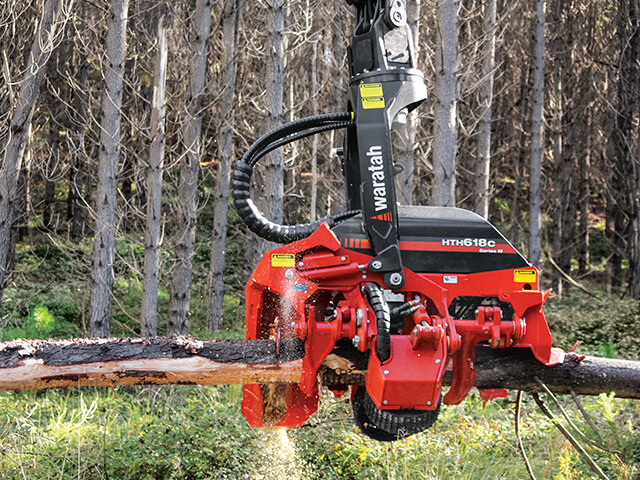 HTH618C Series-III
Harvester Head
Net Weight

2300 kg / 5,071 lb.
Max Hydraulic Requirements

35 MPa / 5,076 psi
Max Delimb Opening

660 mm / 26 in.
Max Feed Roller Opening

680 mm / 27 in.
Max Sawing Capacity

550 mm / 22 in.
Carrier Size

22-30 metric tons
Where to buy
If you're after an agile yet heavy-duty thinning head aptly suited for delimbing or debarking – versatility is the one thing that makes the Waratah HTH618C Series-III so attractive.
The HTH618C Series-III head's short, robust chassis leverages durability with a new, high-performance valve providing fast processing and responsive control of the twin bottom knives for superior delimbing or debarking.
Having broad capabilities and a large selection of options including topsaw, feed motors, wheels and guarding, this head is your best bet for productivity in variable applications.
Technical Data
Dimensions
Width, head open (mm/in)
1600 / 63
Weight
Base weight standard rotator, excluding link and some options (kg/lb.)
2300 / 5,071
Rotation
360 continuous
Delimbing
Delimbing knives
1 fixed front, 4 moving, 1 fixed rear
 
Maximum delimb opening processing knives (mm/in.)
660 / 26
 
Maximum delimb opening harvesting knives (mm/in.)
685 / 27
Drive
Quantity drive rollers
3
 
Motor cc - option 1 (drive, fixed)
(500, 315)
 
Maximum feed speed - option 1 (m/s, ft/s)
8.3 / 27
 
Motor cc - option 2 (drive, fixed)
(630, 400)
 
Maximum feed speed - option 2 (m/s, ft/s)
6.6 / 21.6
 
Motor cc - option 3 (drive, fixed)
(800, 500)
 
Maximum feed speed - option 3 (m/s, ft/s)
5.2 / 17.0
 
Maximum roller opening (mm/in.)
680 / 27
 
Minimum feed arm diameter (mm/in.)
50 / 2
Top Saw
Maximum cut diameter (mm/in.)
320 / 13
 
Length of saw bar (mm/in.)
420 / 17
 
Chain type (in.)
0.404
 
Top saw motor displacement
10 cc
Butt/Felling Saw
Standard Saw
Waratah AT 3/4"
Maximum cut diameter (mm/in.)
550 / 22
Length of saw bar (mm/in.)
750 / 29
Chain type (in.)
3/4"
Saw Motor
45 cc
Oil tank capacity (L/gal.)
15 / 4
Hydraulic System
Maximum operating pressure (MPa/psi)
35 / 5,076
Maximum pump capacity (L/min.,gal./min.)
320-360 / 85-95
Carrier Size Range
Tracked (metric tons)
22-30
Control and Measuring System
TimberRite H-16
Optional Configurations
Optional Butt Saw - SC100
Maximum cut diameter (mm/in.)
550 / 22
Length of saw bar (mm/in.)
750 / 29
Feed rollers: steel thumbnail, debarking
No top saw
Continuous 360-degree rotation
Color marking (SED or LED)
Stump spray
Cast processing upper delimb arms
Cast harvesting (CTL) upper delimb arms
Alpine outer feed wheels
Second diameter sensor
Find end sensor
Harvesting guarding
Snow hole guarding
Pressure sensors (M, CD, T)