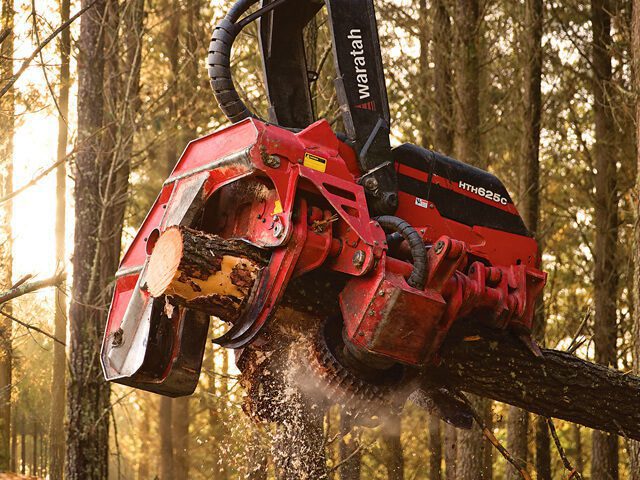 HTH625C
Harvester Head
Net Weight

4390 kg / 9,678 lb.
Max Hydraulic Pressure

35 MPa / 5,076 psi
Max Delimb Opening

800 mm / 31.5 in.
Max Feed Roller Opening

850 mm / 34 in.
Max Sawing Capacity

900 mm / 35 in.
Carrier Size

35+ metric ton
Where to buy
When we set out to build the most innovative head on the market, we turned to the real experts: you. Input from real-world loggers drove the creation of this high-performance 625C harvesting and processing head that delivers the ultimate in productivity, durability, and serviceability. When it comes to feed performance it easily handles 35" wood and has exceptional tree control and delimbing with twin bottom delimb arms. It's complemented by a continuous 360-degree rotation option making wasted motion a thing of the past. Other features include a 3/4" main saw with auto tension, a 3/4" top saw, and smart maintenance features that reduce downtime and improve serviceability. This head will help maximize your productivity.
Beyond the state-of-the-forest head itself, leave it to our loggers to dream up some new serviceability features, like a larger oil reservoir, easier service-point access, improved locking-pin design, and a remote hydraulic test block. The new HTH625C Harvester Head is designed by Waratah and our customers to deliver ultimate performance and easy service. And — with the 360-degree rotator option — you owe it to yourself to take one for a spin.
Technical Data
Dimensions:
Maximum feed-roller opening
85 cm
33 in
Width (maximum)
200 cm
79 in
Weight:
Excluding links and some options
4390 kg
9,678 lb
Butt Saw:
Saw type
Waratah 3/4
Maximum cutting diameter
900 mm
35 in
Bar
102 cm
40 in
Saw limiting
Optional
TopSaw:
Saw type
Waratah 3/4
Maximum cutting diameter
50 cm
20 in
Bar and chain type
715 mm
28 in
Feed System:
Three feed rollers with full hydraulic synchro-drive
Various feed-wheel options available
Motor option 1
(Drive arm motor/fixed drive motor)
1395 cc/800 cc
Feed speed — maximum flow
3.5 m/sec
11.4 ft/sec
Delimbing:
Top knives
1 floating, 2 moving
Maximum delimb opening
800 mm
31.5 in
Bottom knives
2 moving
Maximum delimb opening
800 mm
30 in
Control and Measuring System Options:
TimberRite H-16
Optional Configurations
Felling/Cutting:
Saw limiting
Optional
No topping saw
Optional
Mainsaw bar
97cm/109cm
38in/43in
Color-Marking System:
Optional
Rotator:
Continuous 360-degree rotation
Optional
Control and Measuring System Options:
No length measuring
Optional
Carrier Requirements
Carrier Size Range:
30 tonne +
Hydraulic Requirements:
Maximum pressure
35 MPa
5,075 psi
Useable pressure
32 MPa
4,641 psi
Maximum flow
360 l/min
95 US gal/min
Optimum flow @ pressure
360 l/min @ 15 MPa
95 gpm @ 2,207 psi