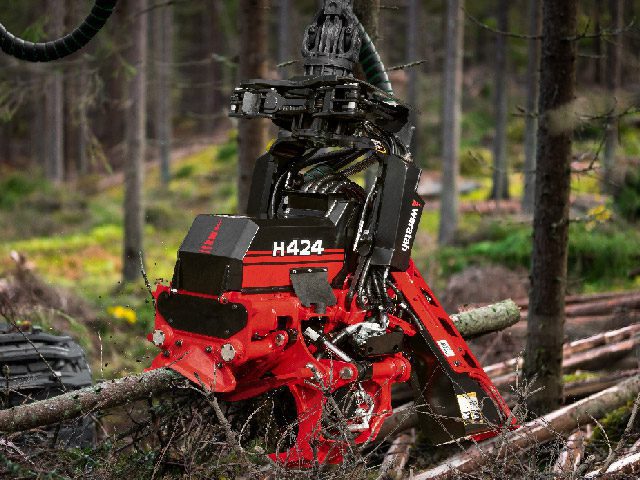 H424
Harvester Head
Weight (Without Rotator & Link)

1105 kg / 2,436 lb.
Max Hydraulic Requirements

28 MPa / 4,061 psi
Cutting Capacity

620 mm / 24.4 in.
Delimbing Diameter Tip-to-Tip

430 mm / 17.0 in.
Where to buy
Characterized by its consistent performance and skill set in second thinnings and early regeneration cuttings, the versatile H424 is equally suited for processing or debarking applications. Specially designed for mid-sized wheeled and tracked machines, this head features an excellent power-to-weight ratio and compact size – making it highly maneuverable.
With its powerful and slip-free four-wheel-drive feeding, the H424's proven high-performance valve provides efficient hydraulic oil flow and head control.
Its mainframe has high durability, with a reinforced saw box, increased tilt angle and an optional heavy-duty (HD) tilt frame for tracked applications. Feed roller arms feature durable bearings, built-in feed roller guards, and strengthened cylinders and pins, with new hose routing increasing durability of feed motor hosing.
The highly efficient SuperCut 100S saw unit with automatic chain lubrication and tensioning has a maximum felling diameter of 620 mm (24.4 in.), giving the H424 superb performance from early thinnings up to early regeneration felling. Four moving delimbing knives, along with one fixed top knife and one fixed back knife, ensure excellent delimbing quality for all stem diameters.
Technical Data
Dimensions
Width, head open (mm/in.)
1520 / 60.0
Width, head closed
1300 / 51.2
Height without rotator and link
1345 / 53.0
Weight
Excluding rotator, link and some options (kg/lb.)
1105 / 2,436
Delimbing
Delimbing knives
4 moving, 2 fixed
Delimbing diameter, tip to tip (mm/in.)
430 / 17.0
Maximum opening, upper knives (mm/in.)
610 / 24.0
Maximum opening, lower knives (mm/in.)
670 / 26.4
Drive
Quantity of drive rollers
4
Gross feed force [kN] (steel feed wheels)
620 / 400-cc:
27
503 / 315-cc:
21.5
Maximum feed speed (m/s)
4.3–5.3
Maximum roller opening (mm/in.)
640 / 25.2
Minimum diameter (mm/in.)
40 / 1.6
Butt / Felling Saw
Standard
SuperCut 100S saw unit, automatic chain tensioning
Maximum cut diameter (mm/in.)
620 / 24.4
Length of saw bar (mm)
750
Chain type
.404
Saw motor
19, 20 or 25 cc
Oil tank capacity
7.5 l
Carrier Range
Wheeled (metric ton)
17-22
Tracked (metric ton)
16-21
Hydraulic System
Maximum operating pressure (Mpa/PSI)
28
Recommended pump capacity (l/min.,gal/min.)
260–320, 69-85
Control and Measuring System
TimberRite H-16
Optional Configurations
| | |
| --- | --- |
| Color marking | Stump treatment |
| Multi-tree-handling (MTH) | Debarking feed rollers |
| Moipu feed rollers | Steel thumbnail feed rollers |
| Steel V-profile feed rollers | Chain and saw-bar kits |
| Hydraulic hose kit | Heavy-duty tilt frame |
| Rotator options | Processing knives |
| Saw bar and chain grease lubrication | |