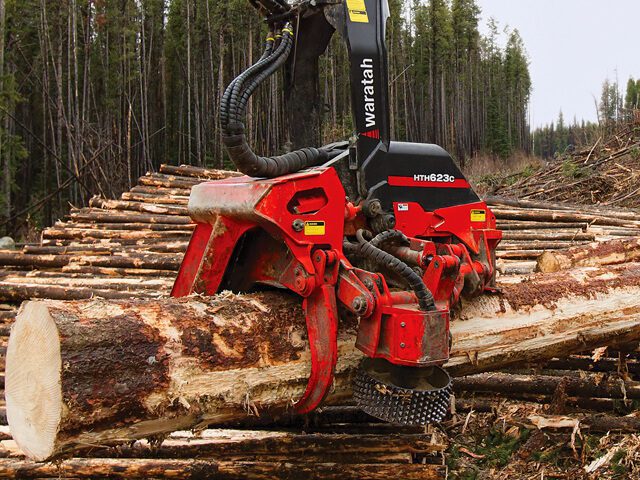 HTH623C
Harvester Head
3040 kg / 6,702 lb.

Net Weight
35 MPa / 5,076 psi

Max Hydraulic Pressure
700 mm / 28 in.

Max Delimb Opening
875 mm / 34 in.

Max Feed Roller Opening
750 mm / 30 in.

Max Sawing Capacity
25-34 metric ton

Carrier Size
Where to buy
Power. Torque. Speed. With its large, high-torque feed motors, delimbing power, and great balance of feed speed, the HTH623C is born to perform with a 25-ton carrier.
Its hydraulic design provides high-flow characteristics combined with low-pressure drop — for increased performance in any application and the toughest conditions.
Thanks to the TimberRite measuring system, you'll have a wealth of data and information, a large color monitor (optional), and wireless data transfer at your command — which means you can run your business smarter and more efficiently than ever before.
Technical Data
Dimensions:
Maximum feed-roller opening
875 mm
34 in
Width (maximum)
200 cm
79 in
Weight:
Excluding links and some options
3040 kg
6,702 lb
Butt Saw:
Saw type
Waratah 3/4
Maximum cutting diameter
750 mm
30 in
Bar
900 mm
35 in
Saw limiting
Available with SuperCut 100
TopSaw:
Saw type
.404
Maximum cutting diameter
45 cm
18 in
Bar and chain type
59 cm
23 in
Feed System:
Three feed rollers with full hydraulic synchro-drive
Various feed-wheel options available
Motor option 1
837 cc/500 cc
Feed speed — maximum flow
5.2 m/sec
17 ft/sec
Motor option 2
1048 cc/630 cc
Feed speed — maximum flow
4.6 m/sec
15.1 ft/sec
Delimbing:
Top knives
1 floating, 2 moving
Maximum delimb opening
700 mm
28 in
Bottom knives
1 fixed
Maximum delimb opening
885 mm
35 in
Control and Measuring System Options:
TimberRite H-16
Optional Configurations
Felling/Cutting:
No topping saw
Yes
Color-Marking System:
Optional
Delimbing:
Bottom knives
1 moving
Carrier Requirements
Carrier Size Range:
25 to 34 tonne
Hydraulic Requirements:
Maximum pressure
35 MPa
5,076 psi
Useable pressure
32 MPa
4,641 psi
Maximum flow
320–360 l/min
85–95 US gal/min
Optimum flow @ pressure
360 l/min @ 15 MPa
95 gpm @ 2,207 psi