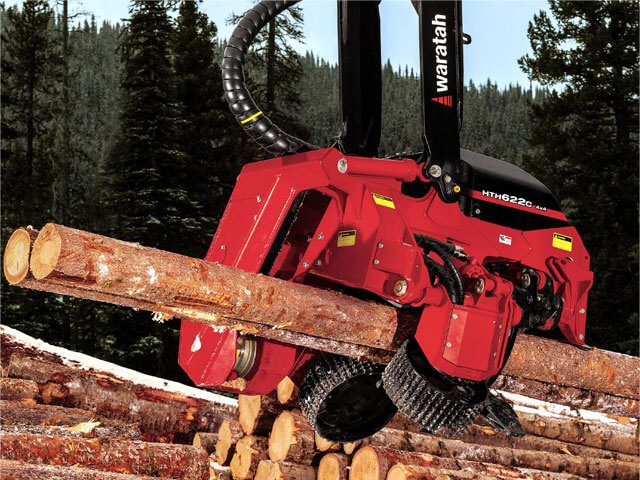 HTH622C 4X4
Harvester Head
Net Weight

2760 kg / 6,085 lb.
Max Hydraulic Pressure

35 MPa / 5,076 psi
Max Delimb Opening

650 mm / 26 in.
Max Feed Roller Opening

780 mm / 31 in.
Max Sawing Capacity

750 mm / 30 in.
Carrier Size

25-35 metric ton
Available in North America/Canada only; coming to other global markets soon.
Where to buy
Innovative and engineered for the toughest applications, the HTH622C 4x4 provides peak performance, productivity, and uptime — helping keep you in the green.
Engineered for the toughest conditions, the new four-roller Waratah HTH622C 4x4 multistem processing head delivers the performance and proven innovation you expect from the industry leader:
Four-roller design, for single harvesting/processing or multi-stem processing applications.
Automatic dual stem and end alignment, for fast processing and minimal waste.
New dual diameter- and length-measuring innovation, for extreme accuracy.
New high-flow hydraulic valve, for faster feeding and improved saw performance.
On-demand synchronized four-wheel drive with responsive proportional control, for positive traction.
Standard auto-tension (3/4 in.)-pitch main saw with 65-cm (26 in.) cutting capacity, for extra efficiency, longer chain life, and fewer service intervals.
New 360-deg. continuous rotation, for improved log handling, reduced carrier-to-head hose failures, and lower operating costs.
Smart new maintenance features, for shorter servicing time, improved access, and maximum operator productivity.
Technical Data
Dimensions:
Maximum feed-roller opening
78 cm
31 in
Width (maximum)
170 cm
67 in
Weight:
Excluding links and some options
2760 kg
6,085 lb
Butt Saw:
Saw type
Waratah 3/4
Maximum cutting diameter
750 mm
30 in
Bar and chain type
900 mm
35 in
Saw limiting
Optional
Oil tank capacity
22 L
4.8 gal
Top Saw:
Saw type
0.404
Maximum cutting diameter
40 cm
16 in
Bar and chain type
59 cm
23 in
Lubrication
Bar oil from tank
Feed System:
4 feed rollers with on-demand hydraulic synchro-drive
Various feed-wheel options available
Feed motors (drive arm motor/fixed drive motor)
702 cc/400 cc
Feed speed — maximum flow
6.5 m/s @ 360 l/min
21.3 ft./sec. @ 95 gpm
Delimbing:
Top knives
1 fixed, 2 moving
Maximum delimb opening
650 mm
26 in
Control and Measuring System Options:
TimberRite H-16
Optional Configurations
Carrier Requirements
Carrier Size Range:
25-35 tonne
Hydraulic Requirements:
Maximum pressure
35 MPa
5,076 psi
Useable pressure
32 MPa
4,641 psi
Maximum flow
320–360 l/min
85–95 US gal./min
Optimum flow @ pressure
360 l/min. @ 15 MPa
95 gpm @ 2,175 psi