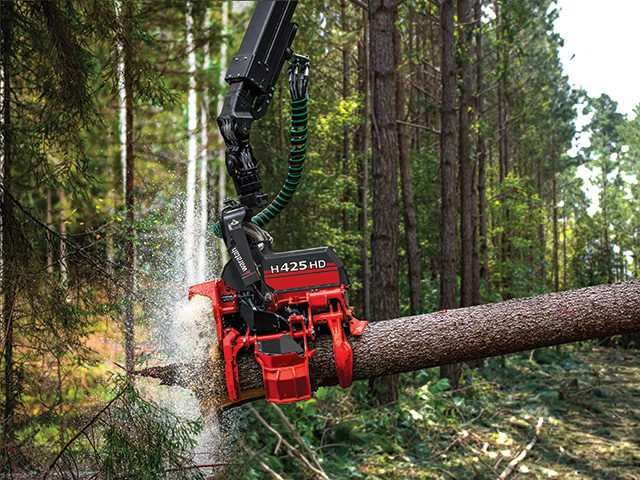 H425HD
Harvester Head
Weight (Without Rotator & Link)

1390 kg / 3,064 lb.
Max Hydraulic Requirements

28 MPa / 4,061 psi
Cutting Capacity

750 mm / 29.5 in.
Delimbing Diameter Tip-to-Tip

460 mm / 18.1 in.
Where to buy
The rugged H425HD is built to work on your toughest jobs. A heavy-duty tilt frame, feed motors and guarding provide even more durability. With a powerful control valve and a top saw option, this high-performance head will become your top choice for wheeled carrier applications.
Technical Data
Dimensions
Width, head open (mm/in.)
1426 / 3,143
Width, head closed
1220 / 48.0
Height without rotator and link
1510 / 59.4
Weight
Excluding rotator, link and some options (kg/lb.)
1390 / 3,064
Delimbing
Delimbing knives
4 moving, 2 fixed
Delimbing diameter, tip to tip (mm/in.)
460 / 18.1
Maximum opening, upper knives (mm/in.)
680 / 26.8
Maximum opening, lower knives (mm/in.)
710 / 28.0
Drive
Quantity of drive rollers
4
Gross feed force [kN] (steel feed wheels)
400 / 630-cc:
27
500 / 780-cc:
30
1014 / 315-cc:
25-42
Maximum feed speed (m/s)
2.9–7.0
Maximum roller opening (mm/in.)
680 / 26.8
Minimum diameter (mm/in.)
50 / 2.0
Butt / Felling Saw
Standard
SuperCut 100S with auto chain tensioning
Maximum cut diameter (mm/in.)
710 / 28.0
Length of saw bar (mm)
900
Chain type
.404
Saw motor
19 or 20 cc
Oil tank capacity
9.0 l
Carrier Range
Wheeled (metric ton)
18-25
Tracked (metric ton)
20-25
Hydraulic System
Maximum operating pressure (Mpa/PSI)
28
Recommended pump capacity (l/min.,gal/min.)
260–340, 69-90
Control and Measuring System
TimberRite H-16
Optional Configurations
| | |
| --- | --- |
| Color marking | Stump treatment |
| Multi-tree-handling (MTH) | Debarking feed rollers |
| Moipu feed rollers | Steel thumbnail feed rollers |
| Steel V-profile feed rollers | Steel ribbed feed rollers |
| Chain and saw-bar kits | Hydraulic hose kit |
| Rotator options | Processing knives |
| Saw bar and chain grease lubrication | Top Saw |
| Heavy-duty tilt frame | |