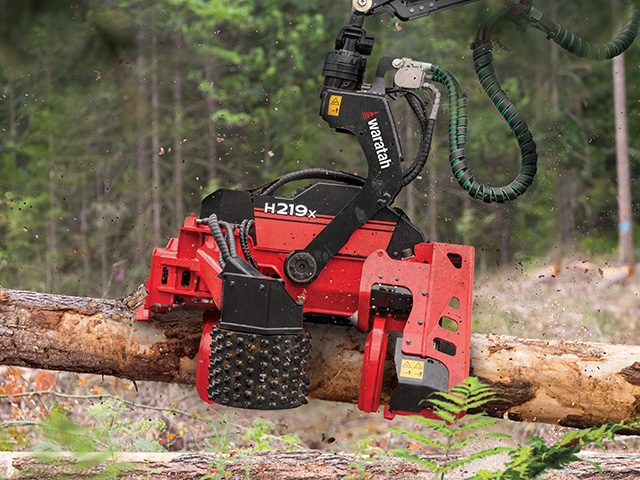 H219X
Harvester Head
Weight (without rotator & link)

2050 kg / 4,519 lb.
Max Hydraulic Requirements

28 MPa / 4,061 psi
Cutting Capacity

750 mm / 29.5 in.
Delimbing Diameter Tip-to-Tip

510 mm / 20.1 in.
Where to buy
Primarily for tracked carrier applications, the H219X comes standard with a heavy-duty tilt frame for maximum productivity. The H219X can efficiently handle large-size wood in final felling or late thinning applications – including hardwood or softwood – and eucalyptus debarking.
The narrow head design lends itself to improved visibility in thinning applications, while the two-roller geometry design provides excellent handling of variable diameters and challenging tree forms up to 750 mm (29.5 in.) in diameter.
This head is also equipped with a SuperCut 100S saw unit with auto chain tensioning. A new valve cover and rerouted hosing allow for easier access and quicker servicing.
Available configuration options, such as longer upper-delimb arms, top saw and find-end sensors, promote productivity in processing. The new length measuring unit has improved geometry and consistency for more precise measurements – reducing measuring loss and reversals.
Technical Data
Dimensions
Width arms open (mm/in.)
1900 / 74.8
Width arms closed (mm/in.)
1190 / 46.8
Height, standard tilt frame, without rotator and link (mm/in.)
1970 / 77.6
Weight
Excluding rotator, link and some options (kg/lb.)
2050 / 4,519
Delimbing
Front knife
Fixed
 
Maximum opening upper knives (mm/in.)
800 / 31.5
 
Delimbing diameter tip to tip (mm/in.)
510 / 20.1
 
Rear knife
One
 
Rear knife maximum opening (mm/in.)
870 / 34.3
Feeding
Quantity drive rollers
2
 
Maximum feed roller opening (mm/in.)
760 / 29.9
 
Maximum feed force
 
With 1259/944-cc motors (kN/lbf)
37.3 - 28.1
8,385 - 6,317
 
With 1404/1050-cc motors (kN/lbf)
41.6 - 31.2
9,352 - 7,014
 
Maximum feed speed (m/s, ft./s)
4.5 – 6.0
15 – 20
Hydraulic Requirements
Maximum operating pressure (MPa/psi)
28 / 4,061
 
Recommended pump capacity (l/min., gal./min.)
320 – 380
85 – 100
Cutting
Maximum felling cut diameter (mm/in.)
750 / 29.5
Maximum saw bar length (mm/in.)
900 / 35.4
Chain type (mm/in.)
10 / .404
Carrier Requirements
Wheeled (metric ton)
20-30
Tracked (metric ton)
25-35
Control and Measuring System
TimberRite H-16
Optional Configurations
| | |
| --- | --- |
| Color marking | Stump treatment (through nozzle, saw bar or both) |
| HD tilt frame option | Steel thumbnail feed rollers |
| Steel ribbed feed rollers | Chain and saw bar kits |
| Hydraulic hose kit | Top saw |
| Processing upper delimb arms | Saw chain greasing lubrication |
| Find end sensor | |