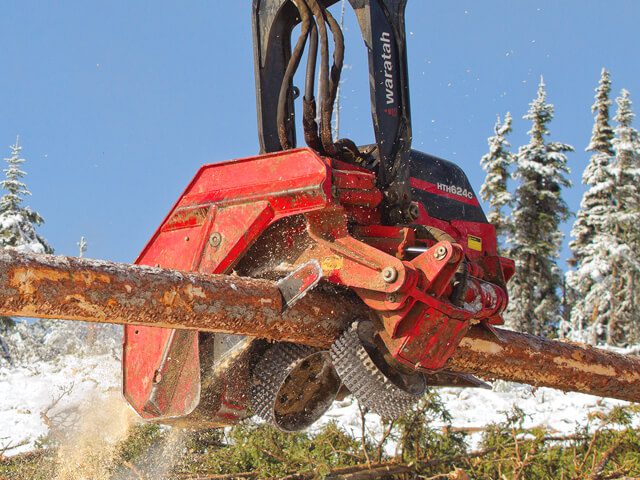 HTH624C
Harvester Head
Net Weight

3530 kg / 7,782 lb.
Max Hydraulic Pressure

35 MPa / 5,075 psi
Max Delimb Opening

760 mm / 30 in.
Max Feed Roller Opening

850 mm / 34 in.
Max Sawing Capacity

810 mm / 32 in.
Carrier Size

30+ metric ton
Where to buy
Proven in medium to large wood harvesting and processing, Waratah's big-timber-tackling HTH624C can easily handle species such as radiata pine, poplar, and aspen — up to 81 centimeters (32 inches) in diameter. With its rugged frame, large synchronized feed rollers, incredible drive power, and precision delimbing quality, it's a highly productive processor — whether you're working at a landing or felling and processing at the stump.
The 624C offers rear-mounted head module bringing increased protection and less shock load, increased top-saw cut capacity, superior hose routing, upsized main saw, strengthened hanging bracket, wider frame, and a number of feed-roller options. It is also ready for the TimberRite control and measuring system, which gives you the accuracy you need for precision processing, even in extreme conditions.
Technical Data
Dimensions:
Maximum feed-roller opening
850 mm
33 in
Width (maximum)
200 cm
79 in
Weight:
Excluding links and some options
3530 kg
7,782 lb.
Butt Saw:
Saw type
Waratah 3/4
Maximum cutting diameter
81 cm
32 in
Bar
91 cm
38 in
Saw limiting
Available with SuperCut 100
Top Saw:
Saw type
0.404
Maximum cutting diameter
50 cm
20 in
Bar and chain type
75 cm
30 in
Feed System:
Three feed rollers with full hydraulic synchro-drive
Various feed-wheel options available
Motor option 1
1048 cc/630 cc
Motor option 2
1395 cc/800 cc
Feed speed — maximum flow
4.6 m/sec
15.2 ft/sec
Delimbing:
Top knives
1 floating, 2 moving
Maximum delimb opening
76 cm
30 in
Bottom knives
1 fixed
Control and Measuring System Options:
TimberRite H-16
Optional Configurations
Felling/Cutting:
Saw limiting
Standard
No topping saw
Optional
Color-Marking System:
Optional
Delimbing:
Maximum delimb opening
Bottom knives
Carrier Requirements
Carrier Size Range:
30+ tonne
Hydraulic Requirements:
Maximum pressure
35 MPa
5,075 psi
Useable pressure
32 MPa
4,641 psi
Maximum flow
360 l/min
95 US gal/min
Optimum flow @ pressure
360 l/min @ 15 MPa
95 gpm @ 2,207 psi