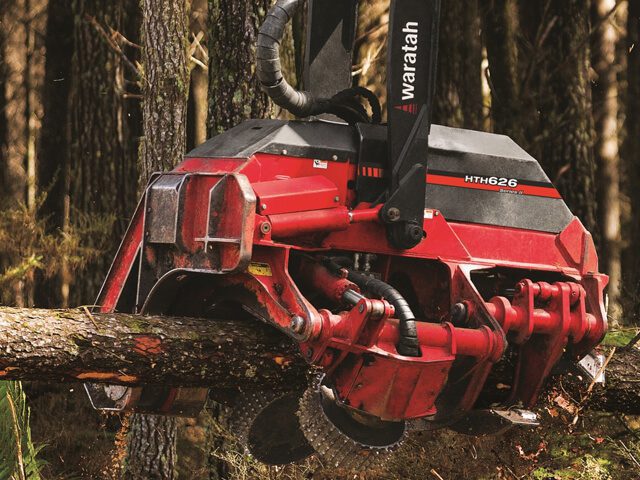 HTH626 Series II
Harvester Head
Net Weight

4850 kg / 10,692 lb.
Max Hydraulic Pressure

35 MPa / 5,076 psi
Max Delimb Opening

900 mm / 35 in.
Max Feed Roller Opening

980 mm / 39 in.
Max Sawing Capacity

860 mm / 34 in.
Carrier Size

35+ metric ton
Where to buy
Go large or go home. Known for its capabilities in extra-large timber - the durable and iconic HTH626 Series II dominates big wood. Period.
With its tough frame, and unrelenting delimbing force, this impressive head handles even the toughest of trees in harvesting and processing applications.
Expertly driven by the efficient TimberRite control system and premium valve, its load sensing capabilities, ¾ pitch auto-tension saw, 360 degree continuous rotation, all equate to improved responsiveness, increased operational productivity in feeding, sawing and log handling. Add to that new serviceability and durability features and you have a head that exemplifies Built to Work™.
Technical Data
Dimensions:
Maximum feed-roller opening
980 mm
38.6 in
Width (maximum)
2200 mm
87 in
Weight:
Excluding links and some options
4850 kg
10,692 lb
Rotation:
360 continuous
or 320 degree
Delimbing:
Delimbing knives
1 floating, 2 moving
Maximum delimb opening
900 mm
35 in
Drive:
Quantity drive rollers
3
Motor cc - option 1
1395
800
Maximum feed speed
3.5 m/s
11.4 ft/s
Maximum roller opening
980 mm
39 in
Minimum feed arm diameter
100 mm
4 in.
TopSaw:
Maximum cutting diameter
400 mm
16 in
Length of saw bar
590 mm
23 in
Chain type
0.404 in
Top saw motor displacement
19 cc
Butt Saw:
Standard Saw
Waratah AT 3/4
Maximum cutting diameter
860 mm
34 in
Length of saw bar
960 mm
38 in
Chain type
3/4 in
Saw motor
50 cc
Oil tank capacity
25 L
6.6 gal
Control and Measuring System Options:
TimberRite H-16
Optional Configurations
| | |
| --- | --- |
| Color-Marking system | Continuous 360-degree rotation |
| No top saw | Fabricated processing upper delimb arms |
| Debarking feed rollers | Alpine |
Carrier Requirements
Carrier Size Range:
35+ tonne
Hydraulic Requirements:
Maximum pressure
35 MPa
5,076 psi
Maximum pump capacity
320-360
85-95