Deere & Company donates $50,000 to New Zealand Red Cross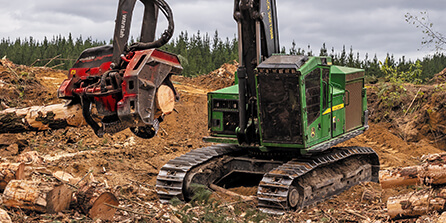 Rotorua, New Zealand (March 2, 2023) – In an effort to help provide relief and recovery to Waratah Forestry Equipment's home country following the aftermath of Cyclone Gabrielle, Deere & Company recently announced a $50,000 (USD) donation to the New Zealand Red Cross. Headquartered in Rotorua, New Zealand, Waratah has served the global forestry industry for 50 years.
When crisis hits, Deere & Company is committed to investing in those working on the ground to help people find shelter, food and water. Deere & Company has a long-standing commitment to Red Cross organizations around the world, with a 105-year history of financial support helping communities affected by disaster.
"We're deeply saddened by the devastation caused by Cyclone Gabrielle and the impact it has had on the New Zealand community," said Luke Chandler, managing director of John Deere Limited – Australia & New Zealand. "We share our heartfelt condolences to those who have lost loved ones, their homes and property during this difficult time. We're proud to stand strong with our customers and their communities, and are grateful for, and pleased to support, the Red Cross as it assists with the North Island community's recovery in the wake of this natural disaster."
Waratah is grateful for the generosity of Deere & Company and its support for the country.
"Waratah proudly stands alongside all of the communities affected by Cyclone Gabrielle throughout New Zealand," said Paul Gamble, general manager, Waratah New Zealand. "The images and tales of devastation from regions so close to home have been heartbreaking. We hope that this contribution can go a small way to help those impacted and look forward to continued support throughout the recovery."
Return to News & Events