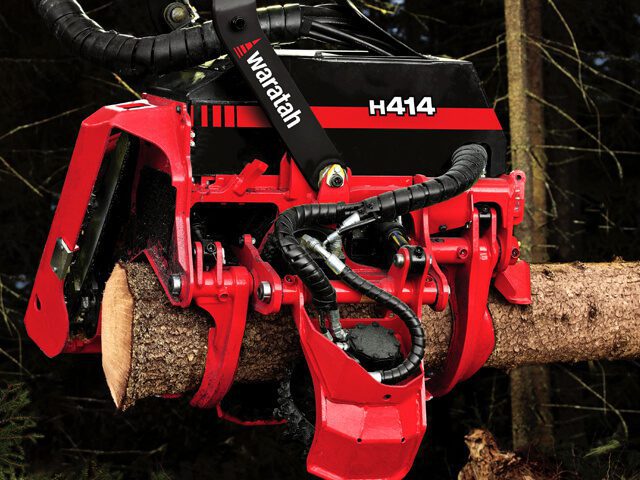 H414
Harvester Head
1,100 kg / 2,425 lb

Weight (Without Rotator & Link)
28 MPa / 4,061 psi

Hydraulic Requirements
620 mm / 24.4 in

Cutting Capacity
430 mm / 17.0 in

Delimbing Diameter Tip-to-Tip
Where to buy
The Waratah H414 is specially designed for mid-sized wheeled and tracked machines, and features an excellent power-to-weight ratio and compact size — making it highly maneuverable even in dense thinning stands as well as in early regeneration.
Characterized by its powerful and slip-free four-wheel-drive feed with four hydraulic feed motors, the H414's proven EV02 valve provides efficient hydraulic oil flow and head control. Its mainframe is machined after being welded as one piece, giving it high durability and dimensional accuracy. New feed roller arms feature more durable bearings, built-in feed roller guards, strengthened cylinders and pins, and well-protected hose routings.
Four moving delimbing knives, along with one fixed top knife and one fixed back knife, follow the contours of the stem. The redesigned knife geometry and long cutting edges ensure excellent delimbing quality for all stem diameters.
The highly efficient SuperCut 100 saw unit has a maximum felling diameter of 620 mm (24.4 in.), giving the H414 superb performance from early thinnings up to early regeneration felling. The automatic chain lubrication and tensioning of the SuperCut saw unit improves the H414's cutting performance and reduces maintenance time.
Technical Data
Dimensions:
Width arms open
1520 mm
5.0 ft
Width arms closed
1305 mm
4.3 ft
Height without rotator and link
1400 mm
4.6 ft
Weight:
Without rotator and link
1100 kg
2,425 lb
Felling/Cutting:
Maximum diameter saw cut
620 mm
24.4 in
Saw bar
750 mm
29.5 in
Chain type
10 mm
.404 in
Chain speed (m/s, ft/s)
40 m/s
131 ft/s
Feeding:
4WD with hydraulically driven steel feed rollers
Feed force gross
With 620/400-cc motors
27 kN
6,070 lbf
Speed
4.5−6.0 m/s
15−20 ft/s
Maximum feed roller opening
640 mm
25.2 in
Delimbing:
Delimbing knives
4 moving and 2 fixed
Delimbing diameter tip to tip
430 mm
17.0 in
Maximum opening upper knives
610 mm
24.0 in
Maximum opening lower knives
660 mm
26.0 in
Hydraulic Requirements:
Maximum operating pressure
28 MPa
4,061 psi
Recommended pump capacity
200–340 l/min
53–90 gpm
Control and Measuring System, Adaptation:
Timbermatic 300, H09
TimberRite, Motomit IT/PC, Dasa 4
Control and Measuring System, New Delivery:
TimberRite
Optional Configurations
| | |
| --- | --- |
| Color marking system | Debarking and Moipu rollers |
| Stump treatment | Rotator valve |
| Steel-spiked, ribbed, or V-type rollers | Alternative chain lubrication |
| Multi-tree handling | Rotator and link |